Jr. NBA 3v3 League

at the Ultimate Fieldhouse
---
The Jr. NBA, the NBA's official youth basketball program has partnered with the John Muir Health Ultimate Fieldhouse to host the California Regional 3v3 league. The Jr. NBA shares in the philosophy that 3v3 play can serve as a motivational and educational approach to teaching the game of basketball.

​The Jr. NBA 3v3 leagues' objective is to impact youth players' long-term development by delivering fun on-court experiences that creates additional opportunities for boys and girls 10-13 to engage in play, foster skill development, and cultivate friendships.
---
---
3v3 LEAGUE INFO
---
DIVISIONS

Boys 10U, 11U, 12U, 13U/8th Grade Divisions
Girls 10U, 11U, 12U, 13U/8th Grade Division

HOW IT WORKS*

​Players assemble their own teams and register
Teams must have a parent to represent them as a coach/contact for the league

​That parent will be In charge of registering the team, managing the roster, etc.

DATES*

Regular Season Dates: January 21, 28, February 4, 11
Championship Tournament: Feb. 25
Games will be played on Friday Nights
Regular Season Games

At Ultimate Fieldhouse (Walnut Creek)
Games generally start between 6 pm and 9 pm (younger divisions play earlier)

Regional Playoff/Championship

At Golden State Warrior's Practice Facility (Oakland)

​​​National Championship

​Due to COVID Restrictions, there will not be a National Championship this season.
*All Dates and Times Subject to Change/Adjustment.
JERSEY

Each player will receive an official Jr. NBA reversible jersey
This jersey MUST be worn by all players during games

DIVISION CUTOFFS

For 10U, 11U, 12U Divisions must be division age or younger as of August 31, 2022
For 13U/8th Grade Division, players must be

14 or younger as of August 31, 2021 AND
In 8th grade or below in the 2021-22 school year
Proof of grade will be required for 14 year olds

LEAGUE FORMAT

8 games per team plus playoffs
Single Elimination Playoff/Championship Tournament

​All Teams advance to playoff regardless of regular season record

GAME LOCATIONS

​Regular Season Games held at Ultimate Fieldhouse (Walnut Creek)
Playoff/Championship Games held at Golden State Warriors Practice Facility (Oakland)

COST

​$395 per team** (Early Registration just $350)
**Additional service fees may apply
MORE GENERAL INFO ON 3v3 LEAGUE
Teams are not required to have an on court coach (although one is welcome).
Teams are required to have one designated adult serve as team administrator (communicate schedule, organize roster, etc). This person will be referred to as a "Coach" in the registration system
Game schedules can not be released until we know how many teams we have registered for each division. Therefore, we cannot provide a schedule until after registration has closed (Jan. 3), unless registration closes early due to a sold out league. ​
---
Championship Tournament - FEBRUARY 25
When: Friday, February 25
Where: Golden State Warriors Practice Facility (1011 Broadway, Oakland)
Format: Single Elimination Tournament (Seeds based on regular season results)
Game times and seeds can't be set until the final league games are completed. Tournament Brackets will be released on or before February 13.
---
---
---
LEAGUE SCHEDULES, STANDINGS & MORE
---
---
ULTIMATE FIELDHOUSE'S PAST
​NATIONAL CHAMPIONS
​2017: 13U GIRLS
---
​2018: 11U GIRLS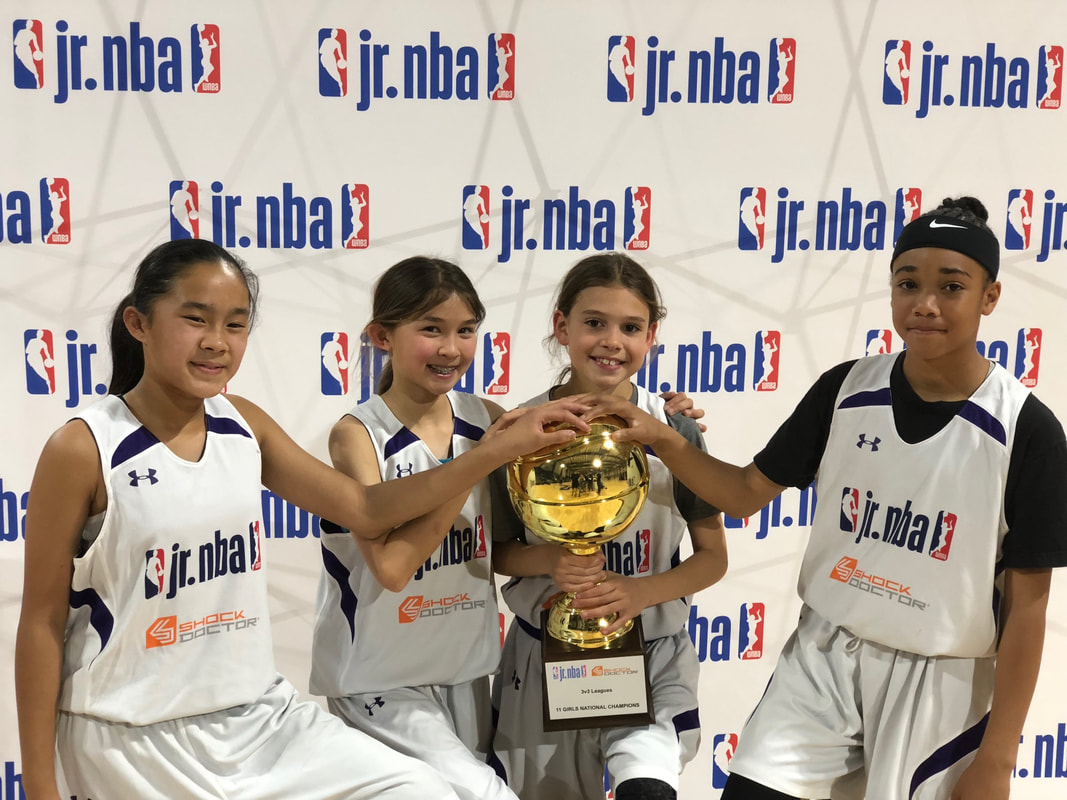 ---
Other Links
---
DID YOU KNOW?
The Ultimate Fieldhouse is just one of 10 locations across the Country chosen to host the Jr. NBA 3v3 league? Regional Champions from each site will travel to compete against each other for a national title in March! Other sites include Atlanta, Chicago, New Jersey, Oklahoma, Denver, New York, New Jersey, Utah and Washington.
---
2019 BAY AREA REGIONAL WINNERS!
---
2018 BAY AREA REGIONAL WINNERS!